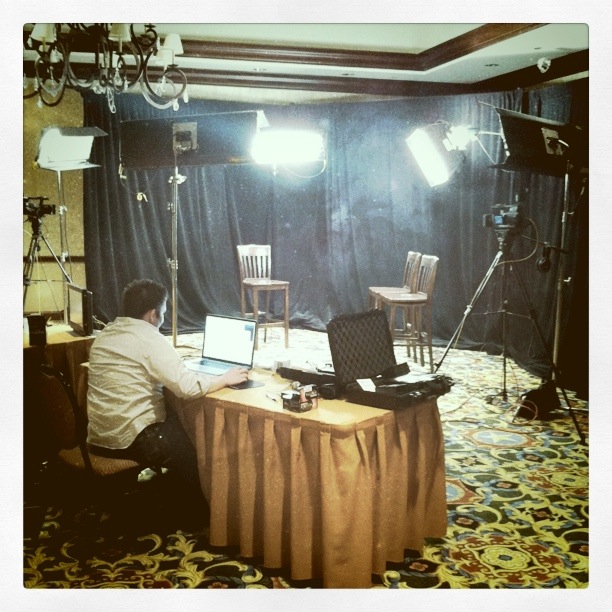 Two years ago, Robert Higham and Radar came up with an idea. The idea was based on two beliefs: 1) the SDPA's industry partners needed a new and exciting platform to promote CME and products & services outside the confines of the dermPA.org website. And 2) the SDPA needed to start building up a media library of its own – an online media resource – so that people with an interest in dermatology could go and search through hundreds of videos, audio podcasts, pictures, posts, blogs, etc… with ease. That was the Summer of 2008. And the idea was Dermcast.tv. In November of that same year, we launched Dermcast at our Fall Conference in Tampa. It was a huge success. After Tampa came San Francisco, then Scottsdale, then Chicago in the Summer and now Grapevine last week.
Five events and two years later, with more than 100 videos and audio podcasts available on the site, Dermcast is now the #3 podcast on iTunes under "dermatology" and the site has seen tremendous growth in the last 12 months. Since Dermcast is such a niche topic, site traffic is relative. Considering the fact that there are only 2,000+ dermatology PAs in the U.S. today, seeing 50% of that number visit the site each week would be a huge success. When the site first launched in November 2008, average hits were in the 3-4,000 range per week. Today, we're seeing anywhere between 10 and 11,000 hits per week. Page requests are up as well and people are spending a lot more time on the site watching videos and downloading podcasts to their mobile devices to listen and learn during their commutes to work.
In addition, industry partners like AMGEN-Pfizer, Intendis and Promius have come alongside Dermcast in an effort to connect doctors and PAs to their products & services.
So here's the Dermcast of Tomorrow: last week we gave Dermcast a new look (see below). It's easy to see which posts are the most recent, the most popular and the most talked about. Soon you'll be able to type in any keyword (psoriasis, for example) and all of the videos and podcasts that correlate with that keyword will come up. Any mention of a specific condition or disease or product, etc… will be called out for you making it easy to jump to that section.
We'll see more "branded podcasts" and less "billboards" – our goal has always been to make Dermcast a clean, non-SPAM site. So you'll never be inundated with sponsored content. However, it is our goal to come up with new & creative ways to show doctors and PAs new products and breakthroughs in the field of dermatology. Dermcast will continue to be the industry leader in HOW that content gets delivered to the viewer.
Mobility is key and Dermcast makes it easy to take the content with you. Downloading podcasts from iTunes is easy and with our upcoming improvements to the site and versatile download options, you'll be able to view all content from any device, even if you have a slow data connection.
Also, look out for videos featuring procedures, helpful tips and what other derm PAs are doing at their practices. And down the road, we'll feature exclusive content that you can only see on Dermcast.tv and a rewards program that you won't want to miss out on.
So that's just some of the vision and success behind Dermcast.tv. If you've been using Dermcast, I'd like to get your take on it. Comment below or email us and let me know what you think. I know the board and all of the committee chairs at the SDPA would love to hear from you.