gubernatorial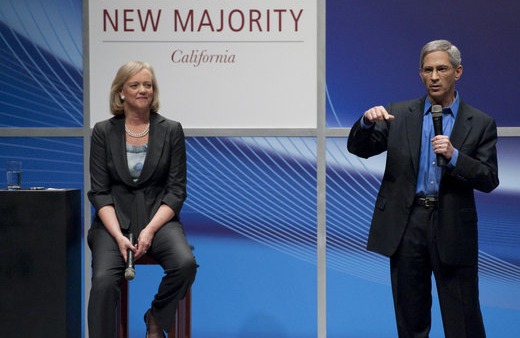 Last night's debate, hosted by the New Majority, between Meg Whitman and Steve Poizner at the Orange County Performing Arts Center has already garnered a significant amount of media attention across the state. Links to photo albums and articles from this morning have been compiled below for your browsing pleasure.
Photo Albums:
Sacramento Bee
Orange County Register
San Jose Mercury News
San Francisco Chronicle
Articles:
Sacramento Bee:
"GOP Hopefuls Spar over Immigration, Climate Change."
Orange County Register:
"GOP Governor Candidates Show Differences at Debate."
Los Angeles Times:
"Velvet gloves in debate between California's GOP Candidates
in Governor's Race."
San Diego Union Tribune:
"Calif. GOP Gubernatorial Hopefules Spar Over Taxes."
San Francisco Chronicle:
"Poizner, Whitman: GOP Candidates' First Debate."
San Jose Mercury News:
"Long-anticipated First Debate between Whitman Poizner Mostly
Echoes Stump Speeches."
Sacramento Bee:
"Dan Walters: GOP Debate is an Indirect Win for Whitman."
Daily Pilot:
"GOP Goes Head-to-Head."
Inside SoCal:
"Whitman, Poizner Hold First Debate."
All Contents Copyright 2006 : Paid for by The New Majority PAC
Photo courtesy of the Sacramento Bee
Radar's Matt Warren will be directing the California Gubernatorial Primary debate today at 5:30 PM Pacific time, live from the Orange County Performing Arts Center (OCPAC). Watch it live below.